OPEN HOUSE SATURDAY MAY 1, 2021
Come to the open house on Saturday May 1. 2021 from 1 p.m. to 3 p.m.
Your dream home is waiting for you in the middle of Sugar Pond Manor, a subdivision in Wellington that has NO HOA on just shy of a quarter acre. Are you looking for a place to call home where you don't have to see your neighbors taking a shower? Privacy abounds in this 2,900 under air square foot home with 4 bedrooms, 3 bathrooms, and a 460 square foot home office.
The home office can be used for you to work from home, homeschooling, or set up as your own private gym. It can also be turned into a 5 bedroom since it has large built-in closets. This is worth giving up your garage for! The room is complete with hand-stressed hardwood floors. I made built in cabinets along one side of the wall. The floor is level with the main level of the home. Check out the photos of the office!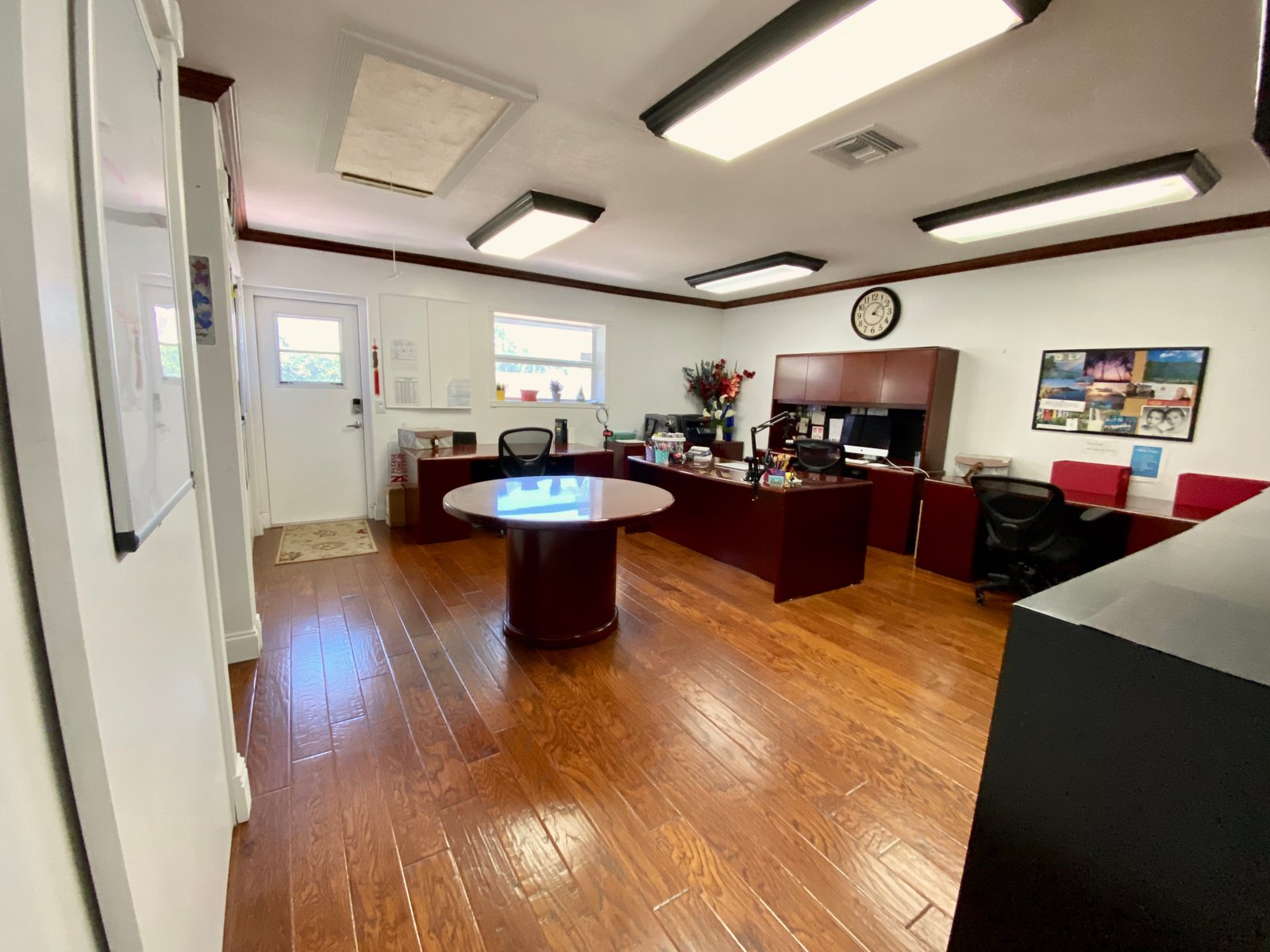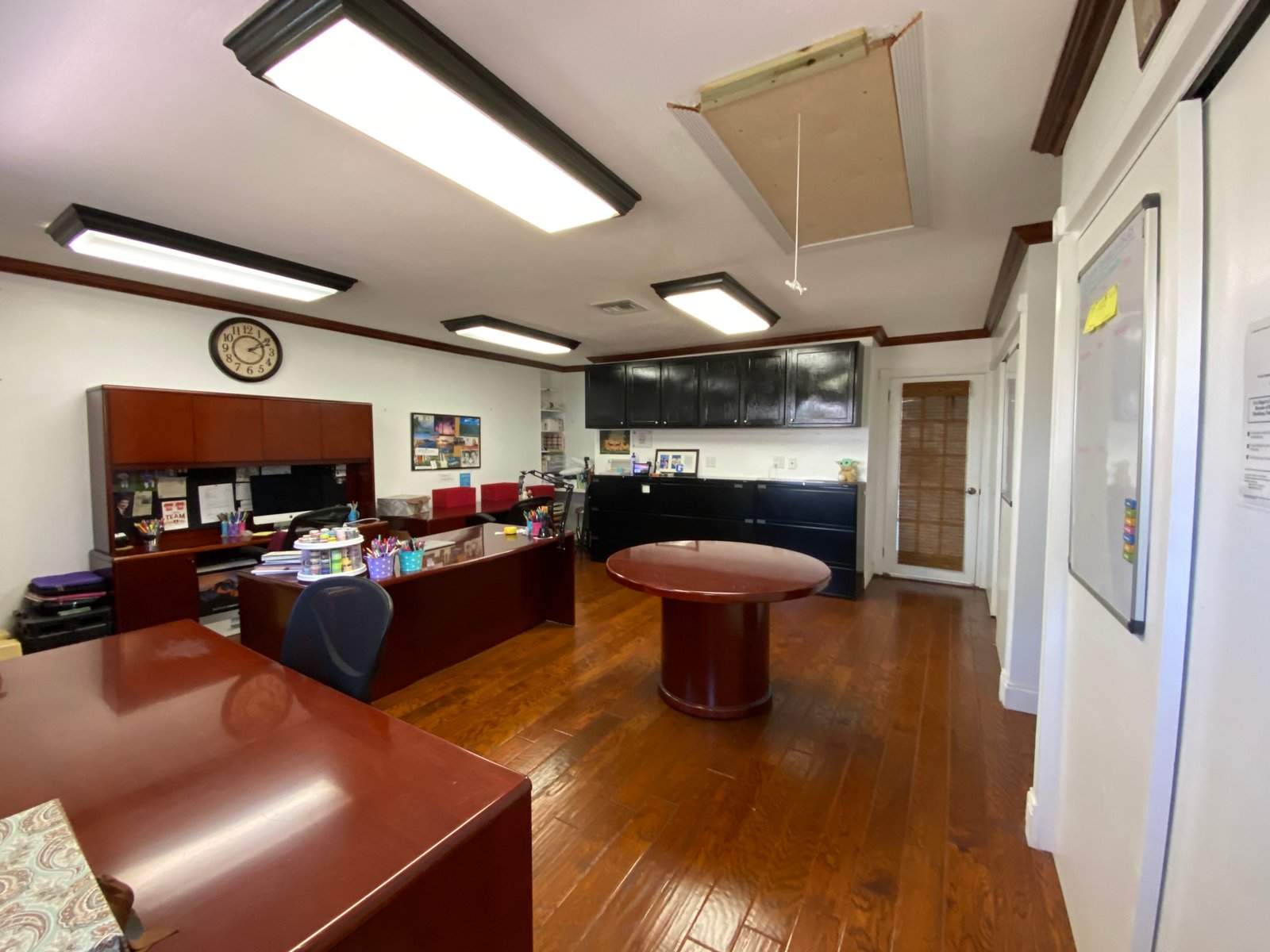 Let's go over some of the 'good bones' this home has before we go over the amazing open floor plan that everyone who comes to visit me raves about:
Brand new roof just put on in March 2021 and it looks sharp!!!
Brand new main air handler and brand new compressor for main living areas – installed in April 2021
Impact glass windows throughout the house
2 A/C zones
Brand new LG ThinQ stainless steel refrigerator
Brand new stove and oven
Brand new microwave
2 Tankless water heaters- never run out of hot water
Full house Reverse Osmosis system
New LG super large washer with tub cleaner setting and sanitary settings
New LG super large dryer with steamer settings and programmable custom settings
Well water for sprinklers
Shed affixed to built up concrete pad
Old Republic Home Warranty passing to buyers – valid until November 2021
As you drive up to the house you will not just notice the brand new roof but also the newly painted exterior which makes for awesome curb appeal. While I am working out in the front on getting my home even more beautiful, my neighbors walking by tell me how great it looks and what a transformation it is! The oversized concrete stamped driveway can fit a lot of cars! We've had 6 cars parked in the driveway for parties.
A brand new lawn was just installed on April 17th. All fresh new sod was just added. I will add photos here as soon as I add the flowers to the front area. You will have one of the most beautiful curb appeals homes in the neighborhood!
If you are like all my friends and visitors as soon as you walk in the door, you will be wowed! The open floor plan makes you want to stay and enjoy the spacious feeling with minimalist touches. High vaulted ceilings in the main areas help bring more light in. Skylights in the living room, family room and kitchen make it so I never have to turn my lights on during the daylight hours. Natural light abounds.
There is plenty of room to spread out and not be on top of each other with a 3 way split bedroom plan. The main master bedroom is off on one side of the house with loads of privacy. Enter your own oasis to get away from work and the running around all day with a view of the pool and a separate privacy courtyard off to side of the room with sliders out to it. Brand new dark slate gray tile makes the room look even bigger than it is. And it is big.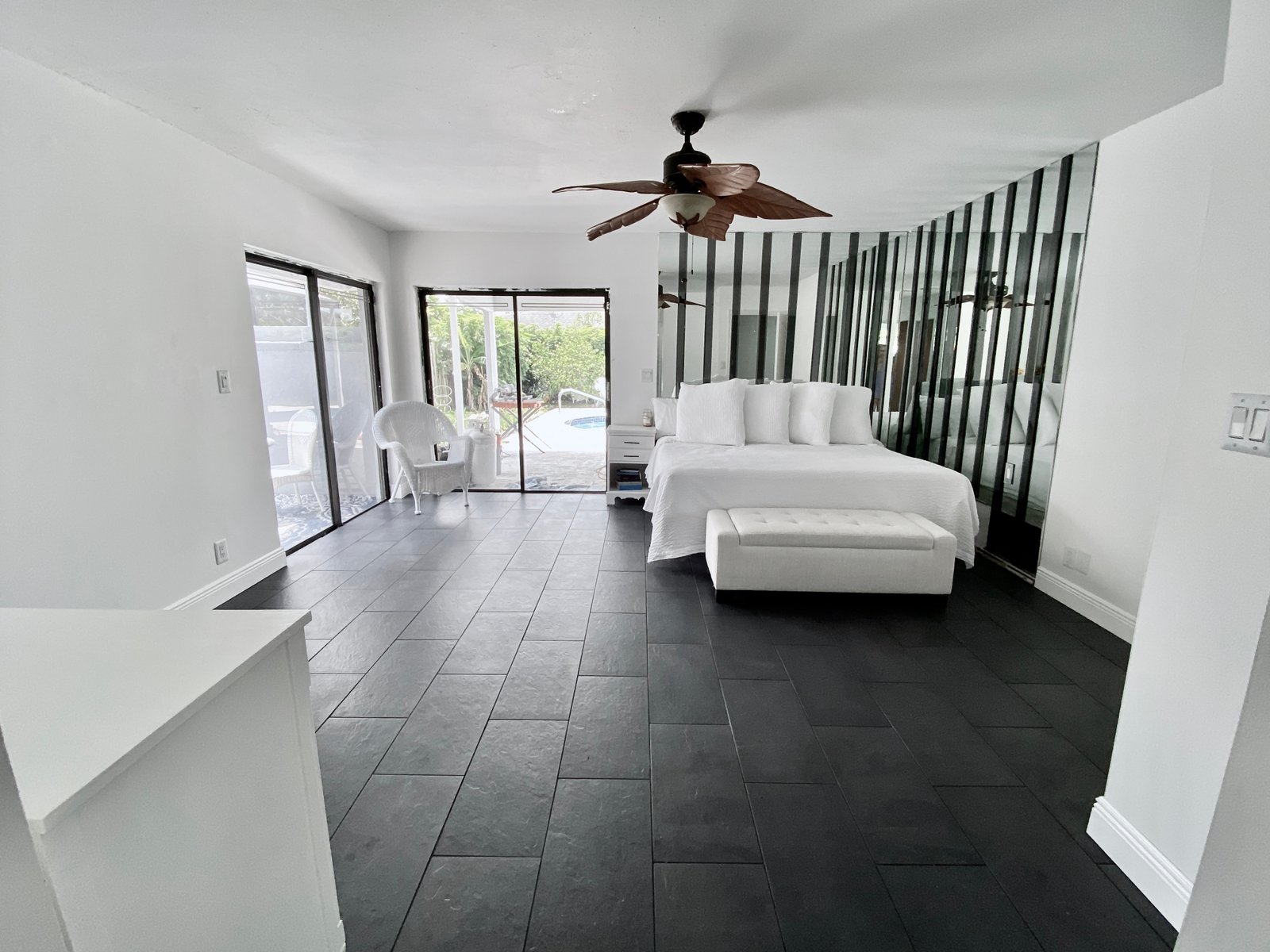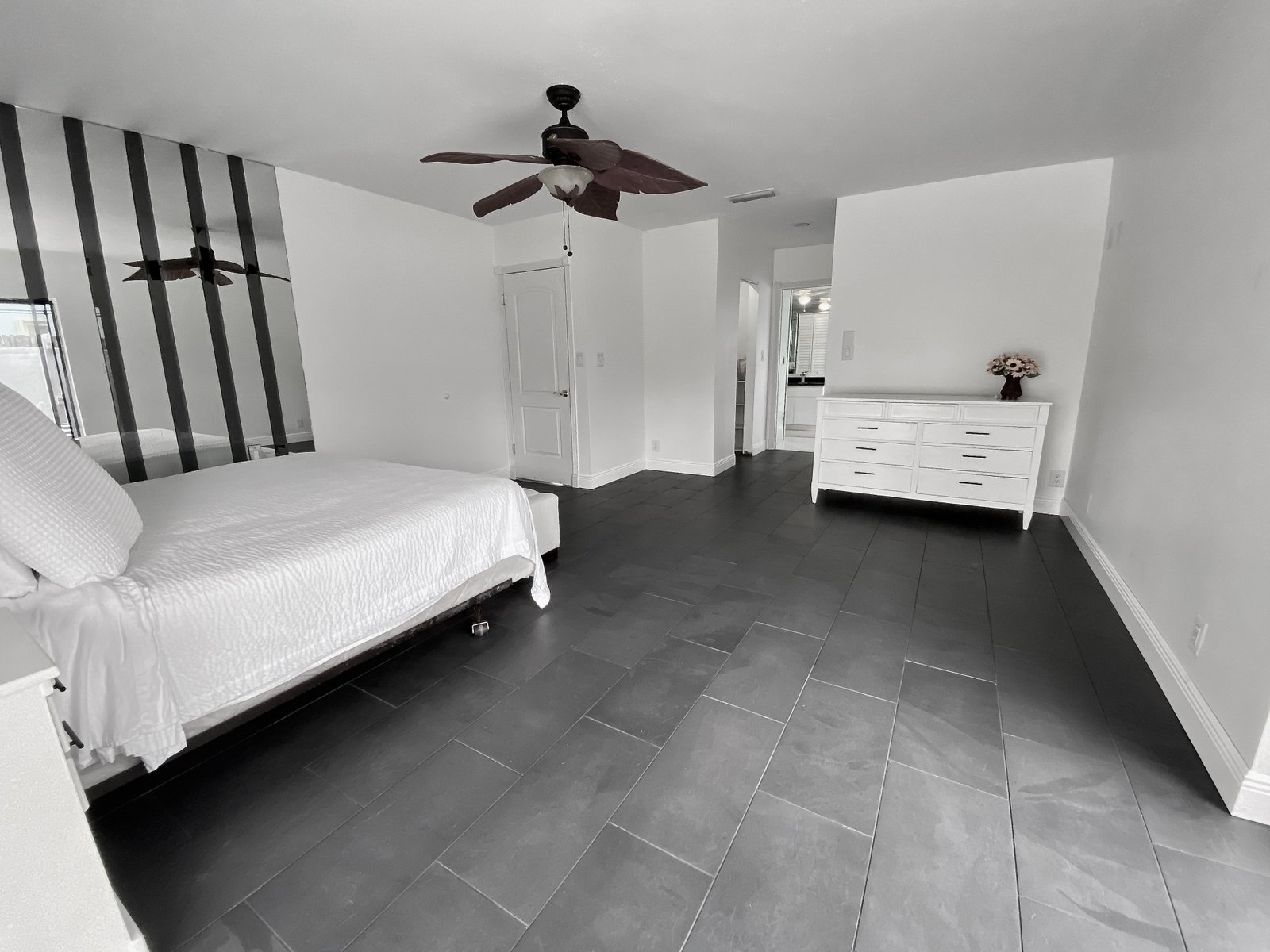 The master bathroom is 8 feet by 16 feet. Walk in shower with brand new subway tile and brand new porcelain tiles on the floor. This bathroom is white, bright, and airy. Brand new fan and tile and closet doors. There is a ton of storage space in this bathroom in cabinets and drawers and a closet that serves as a privacy wall to the toilet. New fixtures complete the space.
I have a tankless hot water heater that heats the master bathroom and the kitchen and another tankless water heater that heats the water in the other two bathrooms.
The second wing of the bedrooms is tucked around a corner off the family room. You hardly notice it is there. It is a second master suite complete with its own bathroom and walk-in closet. This is another extra large bedroom freshly painted. The bathroom has a tub, shower, vanity and new fixtures.
The third wing of the bedrooms is through a pocket door that closes for privacy and noice reduction. There are two bedrooms in this wing with a bathroom. The third bedroom is another oversized large room with lots of light with a built-in custom closet. This bedroom has 2 closets.
The fourth bedroom is a regular sized bedroom that you find in most homes in Wellington in the homes for sale. I used this room as my video production room and painted the back wall a blue screen. This room has a large window with a beautiful pool view. It has wood flooring and crown moulding.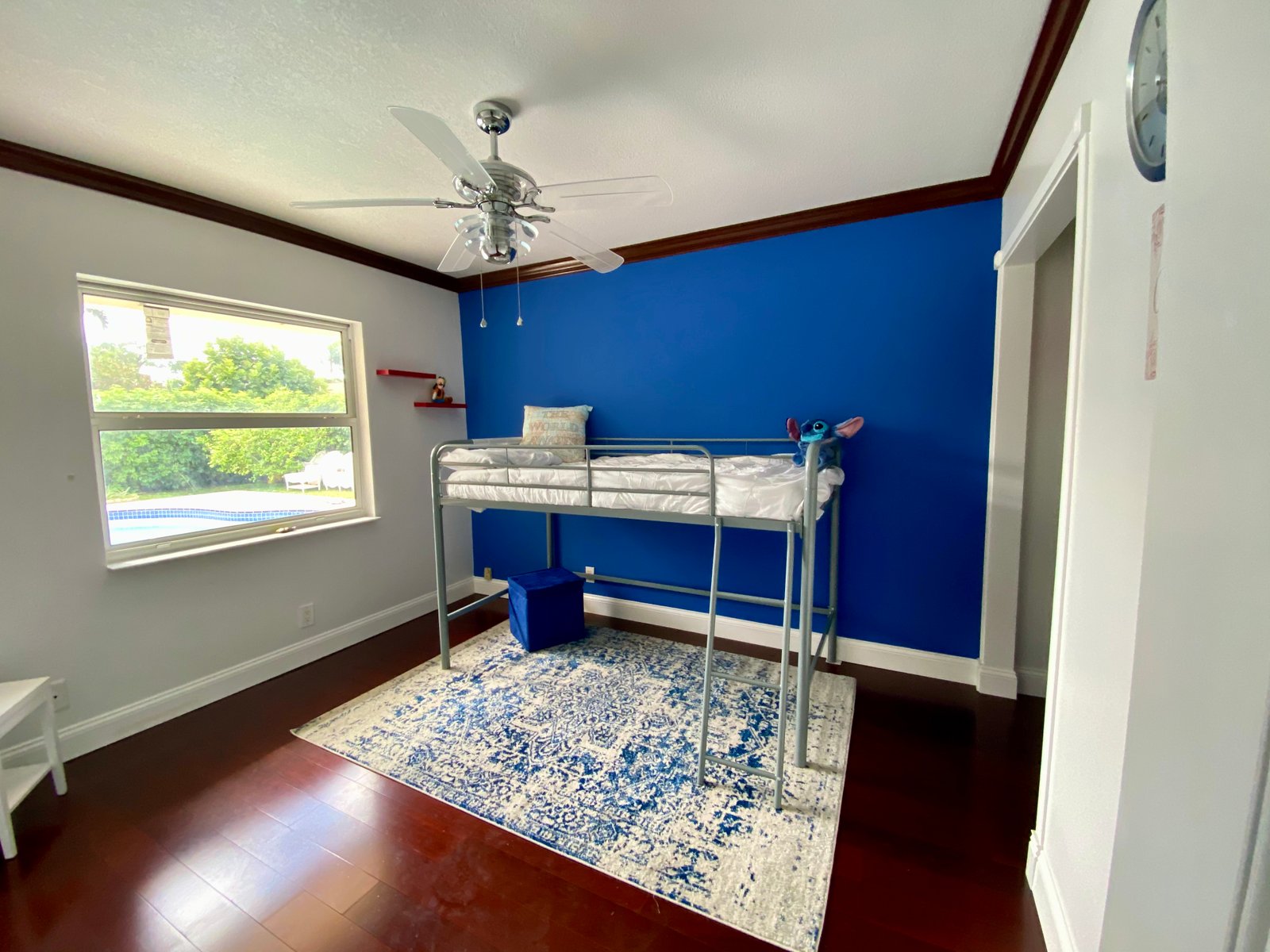 I renovated the cabana bathroom with a brand new gray slate tile on the floor, I replaced the bathtub with a bright white bathtub surrounded by clean white subway tile. New fixtures in the double vanity complete the space. This cabana bathroom is easy access to the pool.
The laundry room is off of the office with built-in cabinets, laundry folding table, built-in ironing board with timer for safety shut off, New LG stackable extra large washer and dryer with sanitary, tub cleaner, steamer, settings.
The living room is light and bright. This is the perfect entertaining home. When my kids were teenagers I put in a pool table/ping pong table along with a large dining room table. We had parties with over 30 teens at one time.
Entertaining continues as you move into the family room which is a great size room with sliders out to the pool area.
I have fans in all the rooms except the office.
The kitchen area consists of a dining area or breakfast area with sliders out to the patio and pool. I am in the middle of renovating the kitchen. The wall between the living room and the kitchen is coming down and I am adding an island counter there. There will be new white cabinets and white quartz countertops installed.
You will love the oversized covered patio and the pool area. There is a large garden area off the side of the pool., Behind the pool is where we play crochet and corn hole. The side yard is where I had a butterfly garden at one time. It is a great space for another private seating area or use it as a dog run.
I am doing all that I can to get the home to my standards to pass on to you by May 1 prior to the open house. The countertops may not be delivered by then. If I have ordered them by then, then they will be installed. If I have not ordered them due to some reason, you may have the counters of your choosing installed, if you pay the difference of what I am paying for them and what you want if different.
You also get an Old Republic home warranty – the platinum level home warranty- which is transferable to you at closing. It is in effect until December 23, 2021.
IMPORTANT NOTICE: No showings before the open house on Saturday May 1. Please contact your agent for details and time of the open house. Offers will be accepted until Monday May 3 at 5 p.m. Responses will be given by Tuesday at 6 p.m. The important things to note are: closing to take place no later than June 18th, allow for seller to stay over past closing until July 15. Cash offers must come with proof of funds and a strong hard money earnest money deposit. Any offers with financing involved must have the appraisal contingency removed. These offers must also come with proof of funds for any difference between the appraisal and the offer price. Strong offers may contain waivers to inspections, appraisals, financing… etc.
Please note that I am a licensed real estate agent in the state of Florida. I am not representing buyers in the sale of my home. Please contact your agent. If you need representation I can refer you to one of my colleagues. I am not giving you legal advice. I am not an attorney. Please be aware that some of the offer requests are not in a buyers best interest.
Please see my list of disclosures on the flyer at the property.